Description
McMicrodose;
A mix of truffles and contains natural psilocybin. Specially selected for properties for the best microdosing. It is best to dose with a micro scale (0.1gr).
Makes you;
smarter, more positive, sleep better and super focused.
Storage;
Store the truffles between 2 and 4 ° C. Shelf life of opened pouch: 2 – 4 weeks. Shelf life of closed pouch: see date lid.
Warning;
This is a dietary supplement and should be used as such. Sale and use under 18 not allowed. Not to be used during pregnancy, psychosis, depression, medication or in combination with other stimuli or alcohol. If in doubt, consult your doctor.
Start microdosing;
Open one truffle bag and place the contents in the container. Place the other bag in the refrigerator. Use a micro scale to weigh the correct amount. Use between 0.5 and 1.5 grams per day for microdosing.
Tips;
Chewing well and slowly improves the effect. Truffles work best on an empty stomach. Meditate and rest contribute to a better result. Microdosing gives the best effect during an alcohol-free period.
Nutritional value
Magic Truffles contain nutrients that serve for the construction, energy supply and regulation of the human organism and are necessary for the maintenance, functioning and development of that organism, and thus can be consumed because of those substances.
Magic truffles contain the following nutritional values: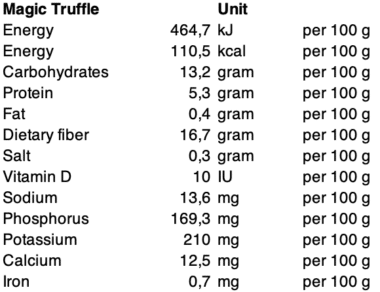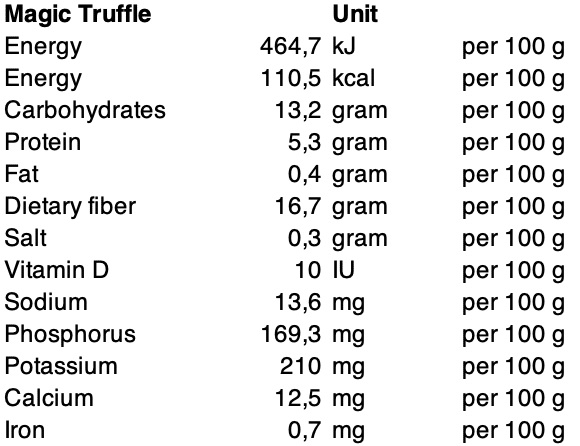 NOTE: Magic Truffles naturally also contain the substances Psilocybin and Psilocin. Psilocybin and Psilocin are hallucinogens. Hallucinogens are substances with a mind-altering effect that can induce hallucinations. When consuming Magic Truffles, take the effect of these substances seriously into account and always keep Magic Truffles out of the reach of children because of these substances! Store Magic Truffles in a dark, dry and cool place between 2 and 4 ℃.